Branson Theaters
Americana Theatre
Featuring "America's Top Country Hits", "Americana's All-Star New Years Eve Show", "Awesome 80's", "British Invasion", "Broadway to Buble' starring George Dyer", "C.J. Newsom's Classic Country & Comedy", "Classic Rock Icons", "Elvis - Story of a King", "Once Upon A Fairytale" and "The Best of Motown and More".

Originally built in 1973 by Rosie and Darrell Plummer, the Plummer Family Theater was the 3rd live country music theater on Branson's famous Highway 76 strip. The theater was later renamed the Moe Bandy - Americana Theatre where Moe Bandy played nightly for many years. Recent renovations included a new lobby with gift shop and concessions area, theater seating with more leg room, updated lights & sound, and new curtains. It has a large level parking lot and convenient loading & unloading areas for bus groups.
---
Shows performing today (4/1/2023) at Americana Theatre
appearing at Americana Theatre(4/1/2023 - 12/28/2023)
Theater Price: $49.87 Your Price: $30.00 (tax included)
Save $19.87 per ticket
The 1980's was arguably the best decade of music with songs that both kids and adults still know and love!Awesome 80's take you on a Journey of the best artists and groups that will make you Jump out of your seat. Every Breath You Take, you will be L... Read more
Categories:
Music Show
|
Tribute Show
---
Ticketing Information
Branson Ticket Store is an Authorized Reseller for shows at Americana Theatre. Once reservations are made, your tickets will be available for pickup at Americana Theatre. Identification will be required for the person whose name is on the reservation. It is recommended that your arrive at least 30 to 45 minutes before show time to pick up your tickets.
---
Location
---
2023 shows performing at Americana Theatre in Branson, MO
appearing at Americana Theatre (4/15/2023 - 12/9/2023)
Theater Price: $49.87 Your Price: $30.00 (tax included)
Save $19.87 per ticket
America's Top Country Hits brings the history of country music to life, featuring classics by the biggest acts, including, Johnny Cash, Buck Owens, Conway Twitty, Merle Haggard, George Jones, Loretta Lynn, Dolly Parton, Glen Campbell, Waylon Jennings... Read more
Categories:
Country Show
|
Music Show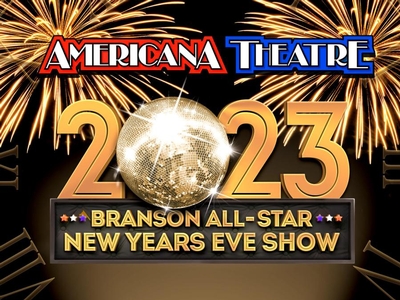 appearing at Americana Theatre (12/31/2023)
Theater Price: $62.34 Your Price: $59.34 (tax included)
Save $3.00 per ticket
Come join us as we count down to a wonderful new year! Time will fly by as you are entertained and catered right up to the clock striking midnight!Your ticket includes dinner provided by Big D's BBQ, as well as an All-Star New Years Eve show featurin... Read more
Categories:
Music Show
|
New Years Eve Show
appearing at Americana Theatre (4/1/2023 - 12/28/2023)
Theater Price: $49.87 Your Price: $30.00 (tax included)
Save $19.87 per ticket
The 1980's was arguably the best decade of music with songs that both kids and adults still know and love!Awesome 80's take you on a Journey of the best artists and groups that will make you Jump out of your seat. Every Breath You Take, you will be L... Read more
Categories:
Music Show
|
Tribute Show
appearing at Americana Theatre (5/25/2023 - 12/16/2023)
Theater Price: $49.87 Your Price: $46.87 (tax included)
Save $3.00 per ticket
Bringing his World-Class, Award-Winning tenor voice and showmanship to the Branson stage, George Dyer WOWS audiences with hits from Broadway, Cinema, Power Ballads, Opera, Love Songs, Country, and Gospel, as well as contemporary favorites.Unlike any ... Read more
Categories:
Music Show
appearing at Americana Theatre (4/20/2023 - 12/7/2023)
Theater Price: $49.87 Your Price: $30.00 (tax included)
Save $19.87 per ticket
C.J. Newsom's Country Classic and Comedy stars critically-acclaimed vocalist, C.J. Newsom and Michael Jason Frost along with The Re-Cliners and eight-time comedian of the year, Terry Wayne Sanders.With talent that continues to WOW and delight Branson... Read more
Categories:
Comedy Show
|
Country Show
|
Music Show
appearing at Americana Theatre (4/17/2023 - 8/18/2023)
Theater Price: $49.87 Your Price: $30.00 (tax included)
Save $19.87 per ticket
Get ready to "Rock and Roll All Night" with Branson's newest show: Classic Rock Icons. Featuring Branson's best tribute artists, Classic Rock Icons will pay homage to the most legendary and influential musicians and bands of the classic rock era incl... Read more
Categories:
Music Show
|
Rock Show
|
Tribute Show
appearing at Americana Theatre (4/4/2023 - 12/7/2023)
Theater Price: $49.87 Your Price: $30.00 (tax included)
Save $19.87 per ticket
Relive the life and times of legend, Elvis Presley through a celebration of heartwarming stories and hard rocking' songs in Elvis: Story of a King.Critically acclaimed impersonator, Matthey Boyce takes you on a trip from Elvis' humble roots in gospel... Read more
Categories:
Music Show
|
Tribute Show
appearing at Americana Theatre (5/17/2023 - 9/2/2023)
Theater Price: $49.87 Your Price: $30.00 (tax included)
Save $19.87 per ticket
For the first time in forever... Your family is cordially invited to this magical morning show. Once Upon a Fairytale brings to life all of your favorite storybook songs including Disney classics, hit broadway shows, and blockbuster movies featuring ... Read more
Categories:
Music Show
appearing at Americana Theatre (4/25/2023 - 12/7/2023)
Theater Price: $49.87 Your Price: $30.00 (tax included)
Save $19.87 per ticket
The Best of Motown and More pays tribute to the many R&B and soul greats that defined modern American music. With their eye-catching costumes and stunning choreography, they perform timeless hits from artists like , The Temptations, The Four Tops, Th... Read more
Categories:
Music Show
|
Tribute Show