Branson Shows
Hughes Music Show starring the Hughes Brothers
Hughes Music Show starring the Hughes Brothers
appearing at Hughes Brothers Theatre - 3425 W 76 Country Blvd - Branson, MO 65616
While "The Greatest Showman" movie has taken America by storm, the "greatest show" in Branson is astonishing audiences with spine-tingling harmonies, soaring powerful vocals, virtuoso instrumental performances, infectious comedy, and intoxicating multi-layered musical arrangements of the best in pop, rock, R&B, country, classical, Broadway, patriotic, and gospel music. The Hughes Music Show features the charismatic and dynamic Hughes Brothers, their stunningly beautiful wives, the sensational heart-throb teens, the ridiculously talented children, and an award-winning live band all clothed in a colorful array of brilliantly conceived costumes. Vibrant innovative lighting, incredible production numbers, captivating original choreography and state-of-the-art sound add a whole new level live performance excellence. The Hughes Music Show defines musical excellence, taking the live music show experience where no Branson Show has gone before!
MENU INCLUDES: Fresh Garden Greens w/ English Cucumbers, Tomatoes and Red Onions, Topped with Seasoned Croutons and Home-Made Ranch Dressing; Signature Hot Rolls w/ Real Butter; Slowly Roasted Pork-Loin drizzled w/ a Savory Balsamic Reduction along with an Herb-Roasted Chicken Breast topped with Fresh, Home-Made Vegetable Ratatouille; Roasted Baby Potatoes and Lightly Seasoned Fresh Green Beans DESSERT Luxurious Dark Chocolate Mousse Topped with a Heavenly Light Whipped Cream and Fresh Raspberries Served with Tea or Lemonade, Water, Coffee.
---
Ticket Prices for "Hughes Music Show starring the Hughes Brothers"
Reserved seating. Tickets are reserved for will-call pickup at the theater. Taxes are already included in all prices. The show is approximately 2 hours in length with a 15 minute intermission. Branson Ticket Store is an Authorized Reseller for shows at Hughes Brothers Theatre. Your show tickets will be available for pickup at Hughes Brothers Theatre. Identification will be required for the person whose name is on the reservation. It is recommended that your arrive at the theater at least 30 to 45 minutes before show time to pick up your tickets. Please select a date in the
show schedule
further down this page to purchase tickets for "Hughes Music Show starring the Hughes Brothers".
---
Pricing Comparison
Our goal is to provide our customers with the lowest prices on Branson show tickets. We encourage you to shop around before you purchase tickets from us. Many of our competitors have additional fees at checkout.
Our Price: $0.00
Theater Price: $0.00
BransonShowTickets.com: $34.10
Branson.com: $35.00
BransonTourismCenter.com: $35.00
TravelOffice.org: $38.95
Prices updated on 10/7/2022. Comparison on 1 adult ticket. Our price is the final price at checkout. Competitor totals may reflect a fee in addition to taxes.
---
Images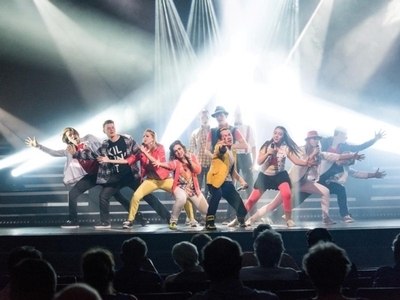 ---
Videos
---
Location
---
Related Shows
Theater Price: $45.00 Your Price: $38.00 (tax included)
Save $7.00 per ticket
13 times Awarded Best Christmas show, the Hughes Brothers and family transport you to a Christmas wonderland filled with the season's best vocal harmonies, exciting dances, inspiring instrumentals, and of course, the enchantment and light-hearted hum... Read more
Categories:
Christmas Show
|
Dinner Show
|
Music Show
|
Variety Show
Hughes Brothers Country Show! Wanted for having too much fun! Be on the lookout! These fellers have been known to captivate folks with their rich harmonies, tickle young and old with their fancy toe tappin and slay anyone within earshot of their come... Read more
Categories:
Country Show
|
Music Show
---
Frequently Asked Questions
You will need to pick up your tickets at the ticket counter located inside Hughes Brothers Theatre between now and show time. You may stop at the theater at any time during normal business hours to pick up your tickets. You will only need identification for the person whose name the reservations are under. No other paperwork is required. Please arrive at least 30 to 45 minutes early if you plan on picking up your tickets right before show time.
Still photography is allowed, but audio and video recording is strictly prohibited.
Parking is free. The parking lot is flat.
The show lasts approximately 120 minutes with a 15 minute intermission.
The dress code is casual. You are welcome to wear jeans and a t-shirt. Just dress comfortably and enjoy the show!
. For more information about shows performing during 2023 at Hughes Brothers Theatre please visit the
theater information page
.