Branson Shows
Clay Cooper's Country Express
Clay Cooper's Country Express
Theater Price: $52.00 Your Price: $42.00 (tax included)
Save $10.00 per adult ticket
appearing at Clay Cooper Theatre - 3216 W 76 Country Blvd - Branson, MO 65616
Clay Cooper's Country Express has something for everyone with 25 entertainers on stage, great visual effects and a variety of music - old & new country, rock n roll, gospel, and patriotic! The singing, dancing, and hysterical comedy will keep you on the edge of your seat from start to finish. Clay and his gang guarantee a family-friendly show, perfect for all ages. Then in November and December, this show features a Christmas Celebration that has become a "MUST SEE" in Branson. The first half is filled with highlights from the regular season show, and the second half is ALL Christmas!
---
Ticket Prices for "Clay Cooper's Country Express"
January 1, 2023 through December 31, 2023

Ticket:

Ages:

Theater Price:

Your Price:

Adult

17+

$52.00

$42.00

Teen

13-16

$28.00

$28.00

Child

12 and under

$26.00

$26.00
---
Reserved seating. Theater style seating. Best available seating. Tickets are reserved for will-call pickup at the theater. Taxes are already included in all prices. The show is approximately 2 hours in length with a 15 minute intermission. Branson Ticket Store is an Authorized Reseller for shows at Clay Cooper Theatre. Your show tickets will be available for pickup at Clay Cooper Theatre. Identification will be required for the person whose name is on the reservation. It is recommended that your arrive at the theater at least 30 to 45 minutes before show time to pick up your tickets. Please select a date in the
show schedule
further down this page to purchase tickets for "Clay Cooper's Country Express".
---
Pricing Comparison
Our goal is to provide our customers with the lowest prices on Branson show tickets. We encourage you to shop around before you purchase tickets from us. Many of our competitors have additional fees at checkout.
Our Price: $42.00
Theater Price: $52.00
AllAccessBranson.com: $43.00
TravelOffice.org: $43.95
Branson.com: $60.00
BransonTourismCenter.com: $60.00
Prices updated on 2/7/2023. Comparison on 1 adult ticket. Our price is the final price at checkout. Competitor totals may reflect a fee in addition to taxes.
---
Images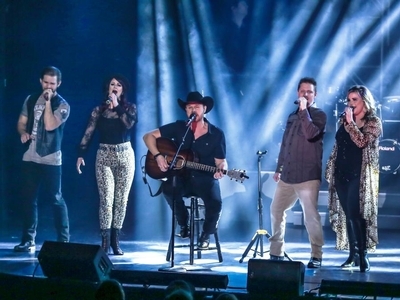 ---
Videos
---
2023 Schedule
Select a date in the show schedule to view prices and to order tickets.
---
Location
---
Related Shows
Theater Price: $82.00 Your Price: $79.00 (tax included)
Save $3.00 per ticket
Clay-Goods JamborEVE: Celebrate New Year's Eve with Clay Cooper's Country Express and The Haygoods for a family-friendly, unforgettable, Blowout Party! Hors d'oeuvres and a cash bar will be available for those who might be interested. There will be p... Read more
Categories:
Music Show
|
New Years Eve Show
---
Frequently Asked Questions
You will need to pick up your tickets at the ticket counter located inside Clay Cooper Theatre between now and show time. You may stop at the theater at any time during normal business hours to pick up your tickets. You will only need identification for the person whose name the reservations are under. No other paperwork is required. Please arrive at least 30 to 45 minutes early if you plan on picking up your tickets right before show time.
Still photography is allowed, but audio and video recording is strictly prohibited.
Parking is free. The parking lot is mostly behind the theater with a slight slope. There are several handicap spots available. The theater suggests that you come early to get a preferred parking spot. If there is no handicap spot available, they do have a drop off point and parking attendants will allow you to unload there if needed. They also have a courtesy golf cart for those who need a ride to the front of the building.
The show lasts approximately 120 minutes with a 15 minute intermission.
The dress code is casual. You are welcome to wear jeans and a t-shirt. Just dress comfortably and enjoy the show!
"#1 Hits Of The 60's (and 50's Too)", "Clay Cooper & the Haygood's New Years Eve", "Clay Cooper's Country Express", "Craig Morgan", "Dean Z - The Ultimate Elvis", "Hot Rods & High Heels", "Kidz Roc", "Larry's Country Diner", "Matt Gumm Live", "Paul Harris and the Cleverlys", "Ricky Skaggs" and "The Haygoods". For more information about shows performing during 2023 at Clay Cooper Theatre please visit the
theater information page
.